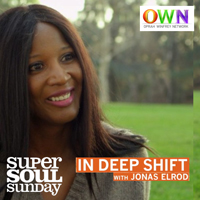 In Deep Shift - with Jonas Elrod
Ester Nicholson will be the featured subject of "In Deep Shift," Jonas Elrod's new hit program on the Oprah Winfrey Network (OWN). The 30 minute program will feature Ester, her daughter Shawtee, Dr. Michael Beckwith and other influential people in her life, tracing the extraordinary, transcendent journey from cocaine addiction and domestic violence to self-realization as a therapist, teacher, public speaker and author of: Soul Recovery - 12 Keys to Healing Dependence.
Be sure to tune in to the OWN Network RE-BROADCAST on March 15th at 12:30 Noon Eastern/Pacific time, following the Super Soul Sunday program.
Please see www.oprah.com for more details.