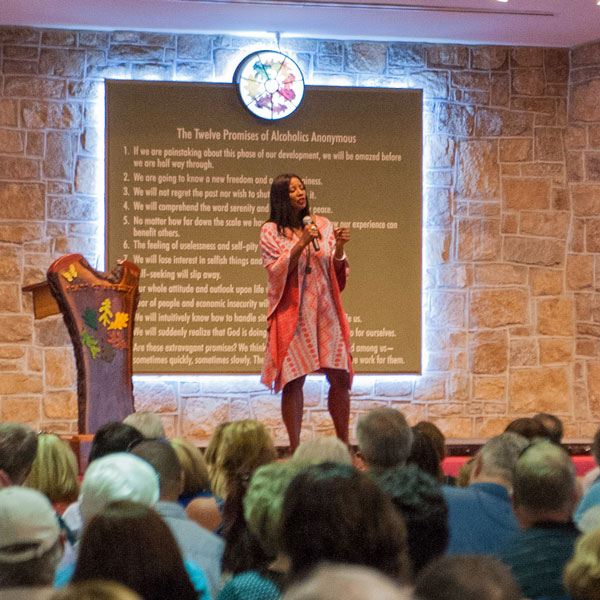 A Message with Broad Appeal
Over the past 7 years, Ester Nicholson has transitioned from a celebrated recording and touring musical artist into a powerful teacher and public speaker of profound influence within the medical, educational, civic, spiritual and corporate communities. Her message, based on her real-world experience with recovery from addiction, has been acclaimed by physicians, therapists, drug counselors, civic and religious organizations, boards of directors and others due to the high value and broad application of her teaching.
For more information about booking Ester for your event, please click below:

---
Ester Nicholson:
"Recovery is not just about addiction to substances. Dependence is an issue that challenges all of us - no matter what realm we are operating within—whether it is personal, professional or spiritual. While it affects individuals in ways we all understand, it also challenges people who have never had a drink or a drug of preference.

Even more surprising, dependent behavior also embeds into organizations, where responsibility, accountability and awareness play such an important role in clarity, innovation and developing our competitive advantage in a fast-changing world.

In a way, we are all standing at a "recovery moment" in our history. As individuals, families, companies, organizations, communities—and even as a nation—we require a healthy balance between the integrity and accountability of the 12 Steps of recovery, and a compassionate understanding of our unique, inherent power and creative capacity so we can grow, improve and thrive.

This is the challenge of our time: to step up to our own personal and professional excellence with an equal measure of heart, for a world that desperately needs our healing attention."
---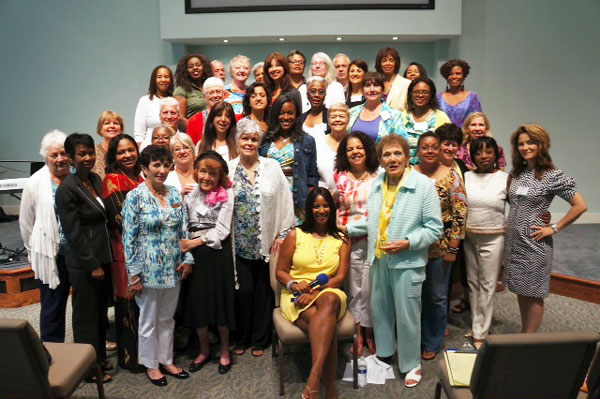 Booking Ester for Your Event
Thank you for your interest in booking Ester for your keynote speech, conference, spiritual center, workshop, musical or other event.
Ester's offerings and rates are negotiable according to the type of event you are planning. For more information about booking Ester for your event, please email us by clicking below:

---
Endorsements
Scarlet Gleeson, Executive Director. FED UP! Coalition:
"I have seen many well-known motivational speakers over the years, but Ester Nicholson's message of hope and empowerment was by far one of the most moving deliveries I have ever heard. She captivated the audience and inspired us with humility and grace. And for the grand finale she belted out her words of wisdom in a spirited song that will ring in our hearts forever."
Rod Stewart:
"Having been a professional singer for the better part of my adult life, with a fair amount of success, I think I know when I hear an original voice. Ester Nicholson has all the essential qualities of greatness, a unique tone, wonderful phrasing, emotional flexibility and passion. In a nutshell the girl's got soul."
Michael Beckwith, founder of Agape International Spiritual Center:
"Listen and feel, for Ester's message and song is a source of healing and inspiration."
Scot A. Hurley – Development Officer – Father Martin's Ashley Treatment Center:
"Feedback following the Father Martin Ashley event was universally effusive, with many using the terms, 'powerful,' 'exceptional,' 'riveting' and more to describe Ester's presentation. The experience was nothing short of mesmerizing."
Bonnie Kleissle, Administrative Director Blessing Hospital Cancer Program, Quincy, IL:
"Our community was so immensely moved by Ester's performance that we continue to be asked about her return. Ms. Nicholson has displayed a high degree of integrity, purpose, and faith."
Kim Nuzzo Director, Solutions Program Jaywalker Lodge Carbondale, Colorado:
"Ester Nicholson, was our featured guest performing artist at the Jaywalker Lodge annual, Fourth of July Celebration. Ester was terrific as a workshop leader, performer and inspirational speaker. Clients at our treatment center who are now alumni living in the community often remind me of the morning talk where she shared her experience, strength and hope with clients struggling with addiction issues."
Jude White, Executive Director Renewal House:
"Ester Nicholson served as the featured "storyteller" for Renewal House's main fundraising event, A Women's Thanksgiving. Ester's message and performance fulfilled our expectations and more. She literally had the crowd on its feet as she concluded her performance."
Julie Silver, MD - Assistant Professor, Harvard Medical School:
"Ester has an amazing story to share that resonates with anyone who has faced adversity. She is inspirational and sings like an angel."
Ann Buchanan, President/CEO United Way of Nashville, TN:
"I had the distinct pleasure of having Ester Nicholson as my keynote speaker for the annual luncheon/fundraiser for the United Way of Williamson County women's group. Ester was not only captivating with her energy and talent but she was also very inspirational in delivering her message."
Brenda Russell (Grammy Nominated Recording Artist and Songwriter)
"The first time I heard Ester Nicholson sing, I cried like a baby. The term angelic is thrown around so easily, but when it comes to Ester, she truly does have the voice of an angel. This new CD of hers is so much fun to listen to and has a healing quality rarely found in today's music. I recommend her to anyone who loves good, soulful music and a powerful, moving vocalist combined..."
Rev. Kathianne Lewis Senior Minister & Spiritual Director Center for Spiritual Living Seattle:
"Ester brought the house down! Her talk was relatable, funny, and poignant. Her singing was engaging and powerful. She received standing ovations in both of our Sunday services."
Lea Jones:
"If you like Michael Bernard Beckwith, you will love Ester, as she is one of his long time students."
Richard Burdick - Spiritual Leader - Unity North, Atlanta, Georgia:
"Ester Nicholson is a powerhouse speaker, singer and motivator. Her polished and professional presentation empowered our congregation and brought them to their feet."
Rev. Ahrianna Plattan – Unity of The Rockies:
"It is rare for me to take the time to endorse a speaker. I have high expectations and do not offer my recommendation unless I feel very confident that the person I am recommending can live up to what I share about them. Ester Nicholson is such a speaker! She "rocked the house!"
Cheryl Hintz, RN BSN OCN Oncology Resource Coordinator Blessing Hospital, Quincy, IL:
"Ester Nicholson, wow, I was blown away! I went to this event with some enthusiasm, but little expectation, and then Ester came on stage. Looking around the audience, it was very apparent that they were as captivated as I was."
Rev. Jamie Sanders Unity of Pensacola:
"To try and put into words the wonder and magic of Ester Nicholson is a difficult undertaking. Ester Nicholson totally blew our congregation away with her music, her spirit and her open-heartedness. She is the real thing."
Mark Anthony Lord, Founder of Bodhi Spiritual Center
"Ester Nicholson is the REAL DEAL! Through Ester's commitment over the years to her recovery and her deep surrender to trusting God she has emerged as a way shower, a voice of hope, inspiration, and possibility."
Toni, event planner Father Martin Ashley:
"Ester was beyond powerful as the keynote speaker at the Annual Father Martin Ashley Women's Luncheon, She blew the socks off everyone in the room."
Terri Board member and congregant at Unity of Westlake:
"Ester Nicholson's workshop was powerful. With strong, affirmative prayer and a commanding presence, she kept every person engaged, skillfully weaving together her message and answers to audience questions."
Sharon USC Westlake:
"Ester's Sunday Service at Unity Spiritual Center in Westlake was a moving blend of music, story-telling, Scripture, soul-touching prayer, and personal triumphs and losses. We laughed, we sang, we cried, we chimed "Amen!"