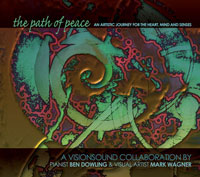 Power Tools for Transformation
Several years ago, my friend, Agape House Band member and co-writer of Soul Recovery, Ben Dowling, created an extraordinary video series entitled, "The Path of Peace." The series featured slowly unfolding images from original artworks by painter Mark Wagner, coupled with Ben's surround-recorded acoustic piano music. The music went on to be recognized as among the best solo piano recordings anywhere.
The Path of Peace DualDisc (DVD) has been embraced as a healing tool for meditation and contemplation, for people who might need sight and sound worked on at the same time - including me sometimes!
The "multi-media" nature of The Path of Peace project suggested that we could incorporate spoken word as a part of the creative process, and thus the "Audio Drops" project came to be, coupling spoken prayer/meditation/contemplation/teaching and music to create an environment for transformation to take place.
We are very proud of the result of this idea, with the release of our initial 21 Days of Audio Drops offered by subscribing to the newsletter. We look forward to much more, as we determine if this idea is helpful to you. Please let us know, by sharing the idea among your friends and loved ones. Then touch base via social media or email.
I love hearing from you.
Blessings and light,
Ester Nicholson